Gallery goldene Pforte – (re) presents
07.12.2023 — 22.12.2023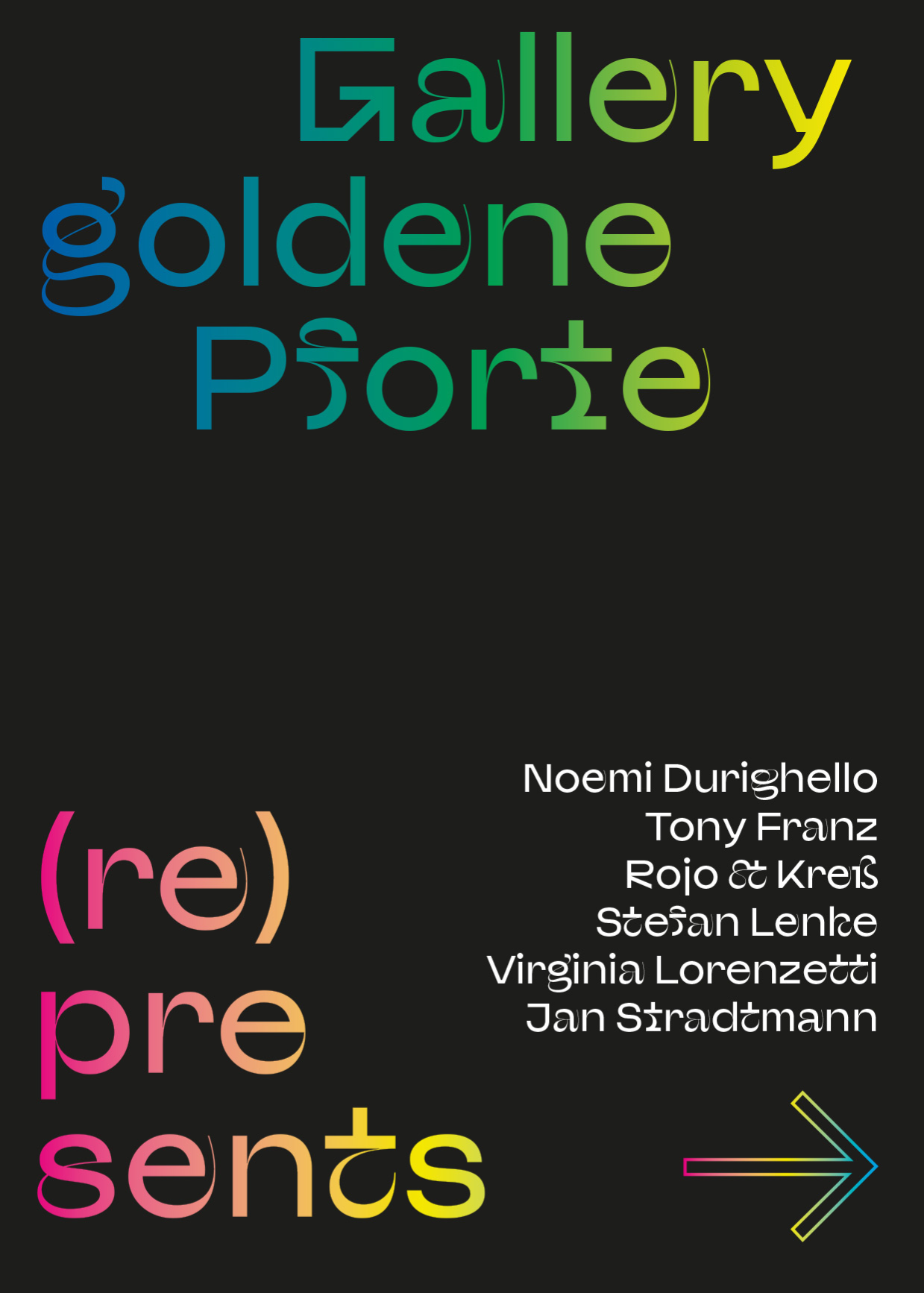 Vernissage: Do., 7. Dez. 23 → 19:00 Uhr
Opening: Thu., 7 Dec. 23 → 7 p.m.
DE: Noemi Durighello, Tony Franz, Rojo & Kreß, Stefan Lenke, Virginia Lorenzetti und Jan Stradtmann bilden das feste Programm unserer Galerie. Zum Jahresende möchten wir alle sechs Positionen gemeinsam in einer Gruppenausstellung zeigen. Es ist gleichzeitig ein Rückblick auf die Ausstellungen von Rojo & Kreß und Tony Franz in diesem Jahr und ein kleiner Teaser für die Einzelausstellungen der andere vier Künstler:innen, die im kommenden Jahr folgen werden. Von Malerei und Grafik zu Fotografie und Skulptur wird eine Bandbreite an Arbeiten der sechs Positionen zu sehen sein.

ENG: Noemi Durighello, Tony Franz, Rojo & Kreß, Stefan Lenke, Virginia Lorenzetti, and Jan Stradtmann constitute the core program of our gallery. At the year's end, we will present all six positions together in a group exhibition. The exhibition looks back at the two shows by Rojo & Kreß and Tony Franz and also serves as a teaser for the solo exhibitions of the other four artists that will follow in the coming year. A range of works from the six positions, spanning from painting and graphic art to photography and sculpture, will be on display.

DE: Katalog Präsentation
Andrey Klassen "On Stage"
Sa., Dez. 9 → 19:00 Uhr
Aufgrund der Anzahl an Personen verzichten wir bei dieser Ausstellung auf einen gold talk und haben dafür am Sa., 9. Dez. Andrey Klassen eingeladen, der uns seinen neuen Katalog "On Stage" vorstellen wird. Auf 222 Seiten sind Reproduktionen und Fotografien des Künstlers zu sehen und Texte von Larissa Kikol und Liza Dimbleby zu lesen. Die Auflage des Katalogs ist auf 400 Stück begrenzt.

ENG: Catalog Presentation
Andrey Klassen "On Stage"
Sa., Dec. 9 → 7 pm
Due to the number of individuals involved, we are foregoing our usual gold talk for this exhibition. Instead, on Saturday, December 9th, Andrey Klassen will join us to introduce his new catalogue, "On Stage." The catalogue features reproductions and photographs by the artist, along with texts by Larissa Kikol and Liza Dimbleby. The catalogue is limited to 400 copies.
Kontakt
Öffnungszeiten
Do, 18:00 — 20:00 Uhr und Termine nach Absprache